In her latest column appearing in the New York Times, AFT President Randi Weingarten writes about the necessity of making early childhood education a priority in this country. Along with co-author Nancy Carlsson-Paige, professor emerita of early childhood education at Lesley University, Weingarten points out that the United States ranks poorly in international comparisons of availability and quality of early childhood education.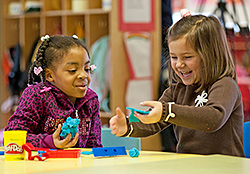 "But as we move toward the goal of universal access to pre-K," they write, "we have to do it right. Standards for early education, including the Common Core State Standards, must reflect the decades of research in cognitive and developmental psychology and neuroscience that tells us how young children learn. Young kids learn actively, through hands-on experiences in the real world. They develop skills over time through a process of building ideas."
Young children need opportunities to engage in active, age-appropriate, play-based learning, Weingarten and Carlsson-Paige say. "They need to figure out how things work, explore, question and have fun. Such experiences have been shown to have significant educational and social benefits for children. And studies show that early childhood education provides a high rate of return for society's investment. But officials now risk snatching defeat from the jaws of victory by extending standards and the fixation on standardized testing to very young learners in the name of implementing the Common Core State Standards." This is why Weingarten has called for a revision of the standards and for stopping the use of standardized tests in grades K-2 because it is not developmentally appropriate.
Read the full column, "Early Learning: This Is Not a Test."
[Photo by Michael Campbell]